Government leaderships are beginning to understand the power of geospatial data and its critical role in decision making in order to achieve national goals. Elevation data should be part of the foundation for strategic planning, and critical to reaching those objectives. Whether it's growing their economy, feeding their people, protecting their borders, keeping the population healthy and productive, or minimizing natural disasters, geospatial data can play a critical role in attaining many national priorities.
Applications:
Elevation data is used in numerous applications including land management, wildlife and natural resource management, aviation, public safety, water management, disaster planning and mitigation, community development, climate change research, infrastructure and construction management, flood risk management, and national security. When geospatial data is gathered for the entire region and shared across agencies, resources are maximized, and national progress accelerates.
In the past, elevation data was primarily gathered on a project-by-project basis rather than part of a national or regional dataset. Data was rarely shared across agencies. Because of this, the same data was often gathered and paid for numerous times by different agencies. The benefits were minimal and mostly contained within a project rather than across the whole country, state, territory, or province.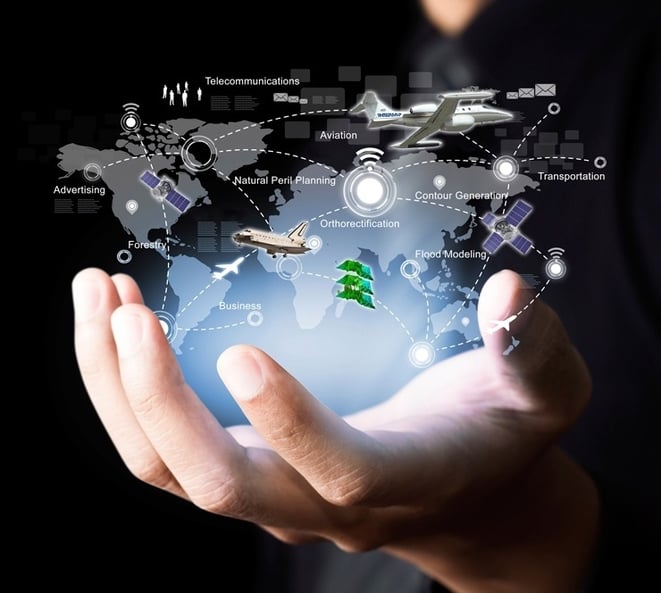 Benefits:
What are the benefits of a complete geospatial dataset? In a recent report, the U.S. Geological Survey and U.S. Department of the Interior estimated that the 3DEP (3D Elevation Program) has the potential to generate $13 billion per year in new benefits to the U.S. economy through improved government services, reduction in crop and homeowner losses due to flooding, and routing of vehicles and resources, and a host of other activities.
In Canada, the Canada Centre for Mapping & Earth Observation predicts that a Canadian national elevation dataset will add an additional $2.13 per m3 in benefits by maximizing wood inventories. Other Canadian agencies and their uses include: The Geologic Survey of Canada will leverage the data for remote predictive mapping. The Earthquake Hazard group will utilize the data to find seismic faults. Public Safety will use it for flood risk management. With a national elevation dataset, data can be shared across agencies optimizing past and future investments.
Many European countries have already made the investment in a national elevation dataset and have not only shared the data across agencies but also with citizens and organizations located within their borders. This open data policy has accelerated many national priorities.
In third world countries, investment in a spatial data infrastructure can be the key to modernizing and advancing their economy by bringing economic development, infrastructure growth, security and safety. A national basemap can help them better manage natural resources, track communicable diseases, complete telecommunication lines, grow tax revenue, expand hydroelectric and renewable energy power, build new roads and railroads, and protect the environment. In other words, by making the investment in a nationwide digital elevation dataset, third world countries can be well on their way to modernization and prosperity.