Geospatial data's recent popularity and growth is not in mapping as in the past, but in solving real-world business problems. The diversity of applications and usages has grown exponentially as government agencies as well as private businesses realize its value. Higher quality geospatial data leads to better answers.
Here are three reasons NEXTMap data is so well suited for so many geospatial applications:
#1: It is a contiguous dataset. NEXTMap was built using airborne radar technology (IFSAR), with a small fleet of aircraft (including Lear Jets and King Airs) flying over the United States and Europe. With uniform collection specifications throughout the entire coverage area, the dataset is not a patchwork of smaller datasets. The precision and accuracy specifications are consistent throughout the entire datasets.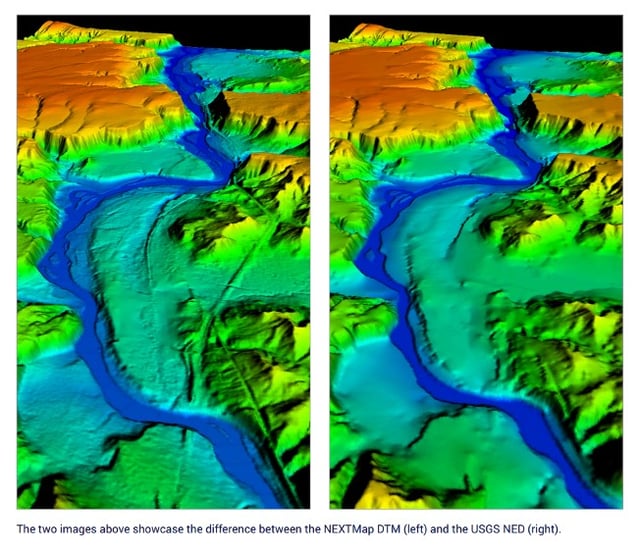 #2: It is a highly accurate and precise dataset. While LiDAR-derived elevation data is capable of higher precision, there is no large-area elevation data platform that can compare with IFSAR. Click here for more information on the specifications.

#3: It is available online in a digital surface model (DSM), digital terrain model (DTM) and ORI. NEXTMap data is available 24/7 for immediate download, there is no waiting for data to be produced. NEXTMap DSM is great for first surface requirements such as line of sight analysis and terrain profiles. NEXTMap DTM is effective for showing bare-Earth elevations and water behavior for such applications as flood modelling. There is no other elevation dataset available — commercially or otherwise — that can match NEXTMap DTM for flood risk analysis, and Intermap's InsitePro leverages the data in the United States and Europe. An orthorectified image (ORI) provides a detailed feature collection of topographic features such as rivers and road networks.
#4: Provides high quality, accurate data in cloud covered parts of the world. Unlike optical satellite imagery, IFSAR sensors are not limited by night or cloud cover. The current NEXTMap dataset includes data from countries in Southeast Asia. For government agencies looking to acquire new geospatial data in cloud-covered tropical regions, Intermap offers economically priced acquisition services.
Thanks to the high quality and large area coverage of NEXTMap data, your geospatial needs are sure to provide the best answers for the money. Starting with the right requirements will ensure you get the most value for your data purchase.