The NEXTMap World 10 digital elevation model (DEM) provides seamless, best-in-class data to offer both a digital surface model (DSM) and, at long last, a digital terrain model (DTM) for the entire world. A 10-meter ground sampling distance (GSD) allows for demanding geospatial analyses anywhere on the planet. As the latest offering within Intermap's NEXTMap product line, World 10 represents our most accurate global product ever.
World 10 features the following considerable improvements:
Reduced noise in the DSM
Enhanced terrain features
Tight integration of all datasets within our fusion process
Improved polar regions
Improved coastal areas
With our one-of-a-kind Frequency Fusion process, World 10 has dramatically increased spatial density globally. This allows users to ortho-rectify higher resolution photos and see more in the DSM than ever before, enabling improved land planning strategy, better resource management, and the ability to take regional-based engineering projects to the next level.
If your projects include regions North of 60 degrees latitude, World 10 offers an unmatched solution.
Key Benefits and Features
Worldwide Coverage: 100% inclusion of the Earth's entire 150 million square kilometers enable comprehensive analysis.
Global DTM: Obtain DTMs— with vegetation, buildings, and other features digitally removed — for any location in the world.
Proprietary Data Filtering: Intermap's Terrain Filter and Frequency Fusion technologies allow us to create the best next-generation global DSM within our NEXTMap product line.
Enhanced Terrain Features: World 10 reveals terrain features that are not distinguishable in competitive digital elevation products.
Improved Polar Regions: By filling voids, removing noise spikes, and normalizing and blending the best aspects of ASTER and GTOPO, elevation accuracies are vastly improved in the polar regions.
Improved Coastal Areas: Improved accuracies through effective ISESat processing makes World 10 a valuable data source for natural resource management and other analyses tied to coastal data.
Void-Filled Data: World 10 fills the voids and corrects the errors inherent in publicly available data for seamless coverage.
Frequent Updates: World 10 is automatically and frequently enhanced with the latest elevation data for more informed decision making.
See what you have been missing as roads and dried river beds that cannot be seen in other DSMs — including SRTM90, SRTM30, and others — suddenly appear. Below are are just a few examples of the terrain features uncovered by World 10.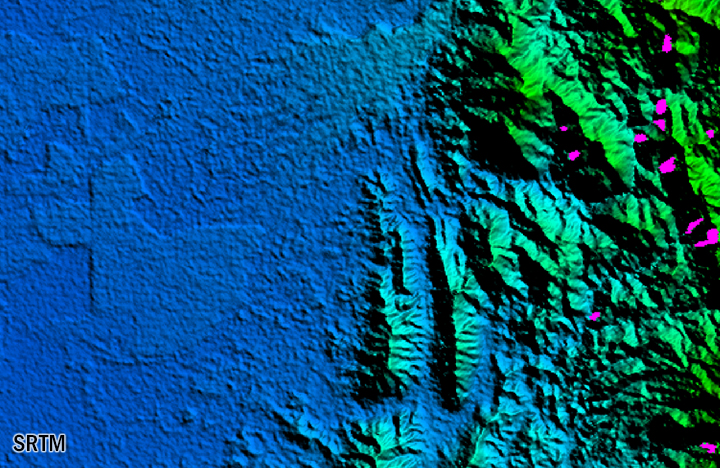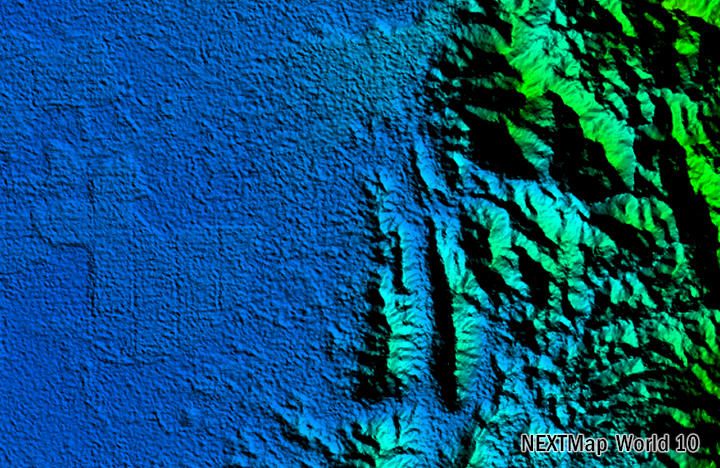 SRTM digital elevation model (left) compared to NEXTMap World 10.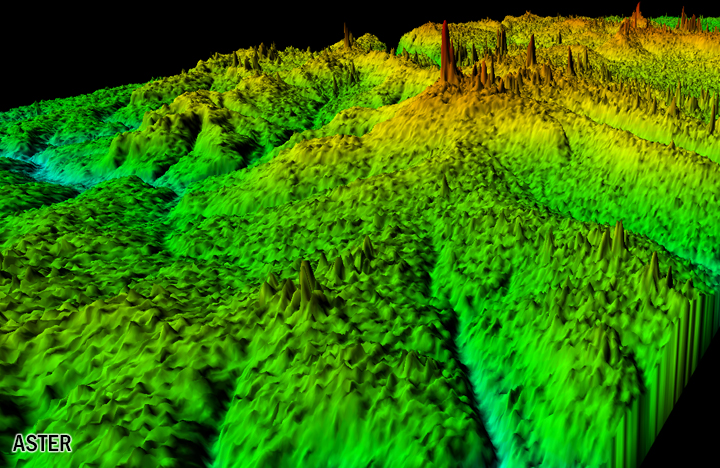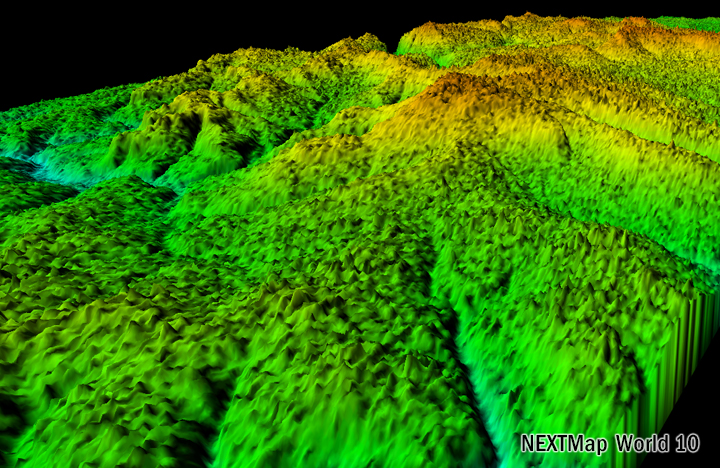 ASTER digital elevation model (left) compared to NEXTMap World 10.