Leveraging over 15 years in research, development, and operation of synthetic aperture radar (SAR) technology, Intermap's airborne radar imaging system - incorporating simultaneous X-band IFSAR and P-band collection - is the world's most efficient, high-resolution multi-frequency remote sensing platform. Intermap's P‑band system is fully polarimetric and operates simultaneously with X‑band to provide detailed sub-canopy information, as well as high-resolution imagery and interferometry.
P-band radar operates at frequencies which are not blocked by foliage, revealing hidden information and making it ideal for security monitoring, erosion monitoring and estimation of soil moisture levels, as well as change detection and intelligence, surveillance, and reconnaissance (ISR) operations.
Revealing Hidden Dangers: Finding Command/Trip Wires, IEDs and Unexploded Ordnance
Using our proprietary collection mode, Intermap can detect threat items like improvised explosive devices (IEDs), command wires and unexploded ordnance (UXO) – even beneath the ground's surface. Using polarimetric imagery and change detection, a sample IED and command wires were identified (shown below, highlighted in red) in this simulation.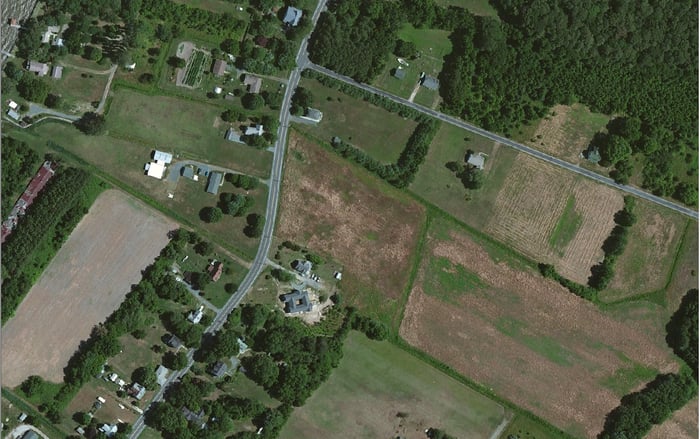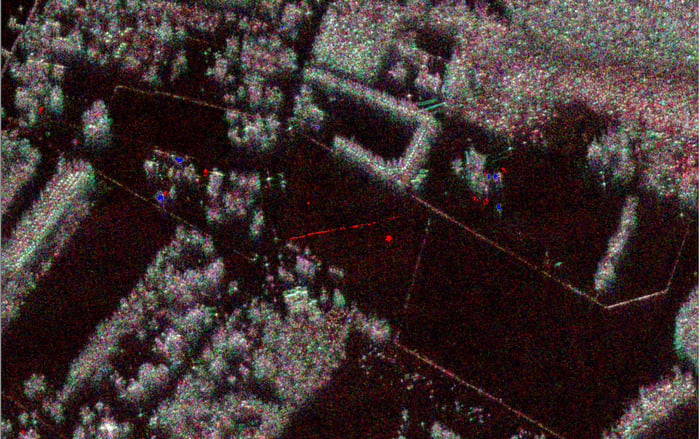 Enhanced Tactical Awareness
P-band radio waves penetrate through canopy vegetation, allowing identification of natural and manmade features that are hidden from view when using optical or LiDAR imaging – enabling tactical awareness of objects and features such as vehicles, fences, buildings and more.
Man-made objects stand out in P-band imagery. Layering P-band with other sources can enhance artificial intelligence (AI) and machine learning applications by clearly manmade objects. For instance, note how the power-lines stand out in P-band imagery compared to optical imagery.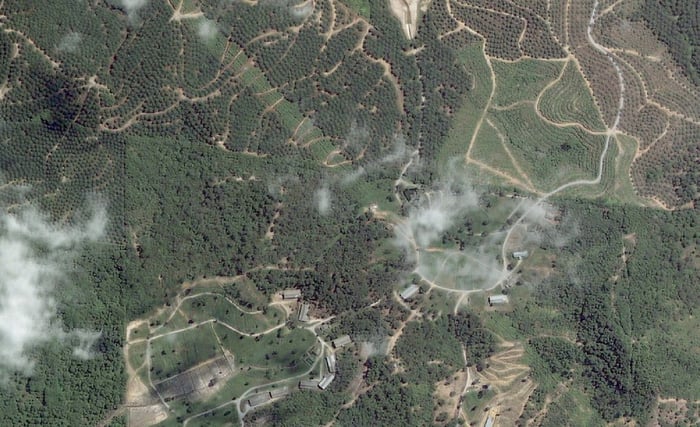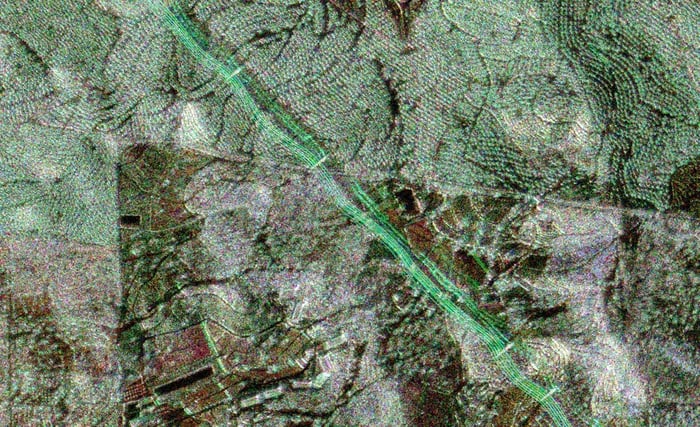 Superior Change Detection
Nefarious activity tends to take place under cover. Under cover of night. Under cover of trees. Anywhere that it can't be seen. Intermap's P-band imagery and change detection algorithms give you a better picture of what you might otherwise miss. Further, by measuring polarimetric response and scattering behavior, additional distinguishing characteristics can be observed and exploited. This translates into more targets that can be observed and more ways of measuring whether those targets have changed in some way.
Flying Higher and Faster for a Lower Acquisition Cost
Operating at altitudes of up to 30,000 feet and looking in both directions simultaneously, Intermap's fully autonomous airborne radar imaging system can collect over 7,000 km2 per hour – making imagery collection and change detection much more affordable.