Last week I compared hurricane history with the current (at the time) forecast. There were a few storms of potential interest, including Erika and Ignacio. Well, here's what really happened:
Erika fizzled, bringing plenty of rain to Florida, but nothing catastrophic. Likewise, Ignacio didn't amount to much for Hawaii, steering well northeast of the archipelago. Of interest, though, was that Ignacio was part of a hat-trick of Cat 4 hurricanes in the Pacific at one time over the weekend – yet another oddity of Pacific weather this year as El Niño cranks up.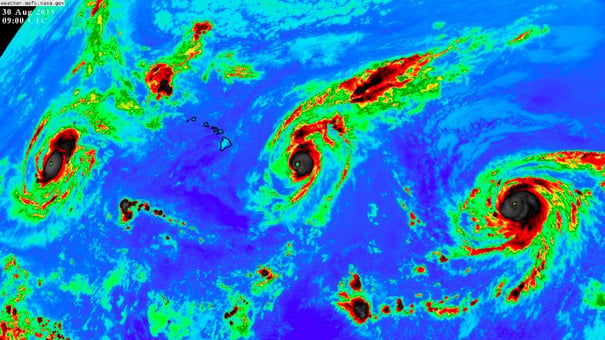 Photo from NASA: Three Category 4 hurricanes on the morning of Sunday, August 30, 2015, in the Pacific. Kilo (left), Ignacio (center), and Jimena (right).
The fact these storms weren't as damaging as they might have been doesn't change the fact that the long view is the right one for insurers.