Last week I wrote about the event in San Francisco I went to where we explored innovation in insurance with Big Data. The point I made was that Big Data and new software are innovating insurance incrementally, but not disruptively. Since then, I've been wondering if I was selling the innovation short. Is there actually something disruptive happening? There are plenty of articles out there suggesting there is, so what am I missing?
Not much.
Here is something from Frank Chen, at mega-VC firm Andreessen Horowitz, on insurance. A16Z (as they brand their URL, cleverly) are legitimate drivers of disruptive innovation, not just by investing in successful disruptors but by incubating them with expertise, attention, and guidance. Their catch phrase is "Software is Eating the World." But is it eating insurance? The first subhead suggests it is: "Software Rewrites Insurance." Cool, but what does that mean? It means:
Software is changing how risk is priced.
Software is empowering an ongoing relationship with customers.
Software is changing the way insurers pool capital.
These innovations are all concerned with mere aspects of one key part of insurance: exchanging risk for money. However, none change that core. If the core isn't changed, it's not disruptive…software is not eating it. With these innovations, insurance remains the same old thing, but priced differently, backed by capital accumulated differently, and marketed differently.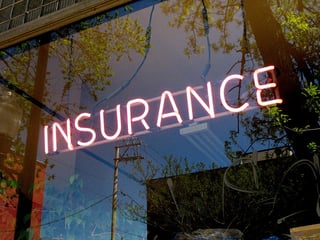 If insurance was urban transportation, the equivalent would not be Uber – it would be the same old taxi companies with new apps and maybe some drivers owning a stake in the licenses. (Photo Source: David Hilowitz/Flickr)
This article is more broad, with insights from 10 different perspectives. It's worth reading about the authors of CB Insights because they know this space. Their title is almost the same as A16Z's: Software is Eating Insurance. Is it? Nope.
In the CB Insights article, Mr. Chen is back to describe the possibility of crowdsourcing – basically micro-mutuals – to accumulate the needed capital. The pricing/sales/marketing advances are addressed; key innovations, but not disruptive. There are a few contributors who actually call out the lack of innovation (including Nektarios Liolios of Startupbootcamp Insurance and Lee Hower of NextView Ventures). TX Zhuo of Karlin Ventures hints at the lack of true disruption in the industry by pointing out that a driver behind potentially innovative software is to be bought out by a great big insurance company.
Arjan Schütte and Core Innovation Capital is bullish on insurance, focusing on how prime for innovation it is, and the expansion of what needs to be insured (self-driving cars, freelancers like Uber/Lyft drivers, cyber threats, etc.). It is absolutely valid to see new risks as an opportunity, but this is not innovation so much as remaining in business. The same thing happened when cars were invented: insurance was already 200 years old, and the industry figured out how to insure them.
For me, the one piece of the CB article that stands out is from Brendan Dickinson of Canaan Partners. In his article in TechCrunch, he identifies three aspects of the insurance industry that hinder innovation:
New carriers are required to have unencumbered stores of cash to satisfy the regulators.
Pricing is regulated at the state level, with regulators controlling how much a company charges for a given product.
The first customers who need a new product are the highest risk, and thus (there are) higher claims than the industry average once you launch. For a startup, this is just when you are the youngest and most vulnerable.
Mr. Dickenson has made the key point: insurance will be very difficult to disrupt with software and technology because of the characteristics of the industry itself. Until something new helps insurance overcome those three characteristics, and the decades and centuries of momentum (inertia) behind them, innovation will remain incremental, helping insurance adapt to an evolving marketplace. But for now, the term disruptive is overused when discussing insurance and insurance technology.